Forever at the forefront of any new automotive trends or technologies, Porsche is the brand name that generations of drivers have trusted to deliver cutting-edge innovation. At Hennessy Porsche North Atlanta, we rely on our favorite carmaker to give us ground-breaking and stylish cars and SUVs that are powerful and thrilling to drive, and they deliver, every time. Which is why it comes as no surprise that Porsche is now at front of the electric luxury car front, leading the charge with the outstanding, brand-new, 2021 Porsche Taycan.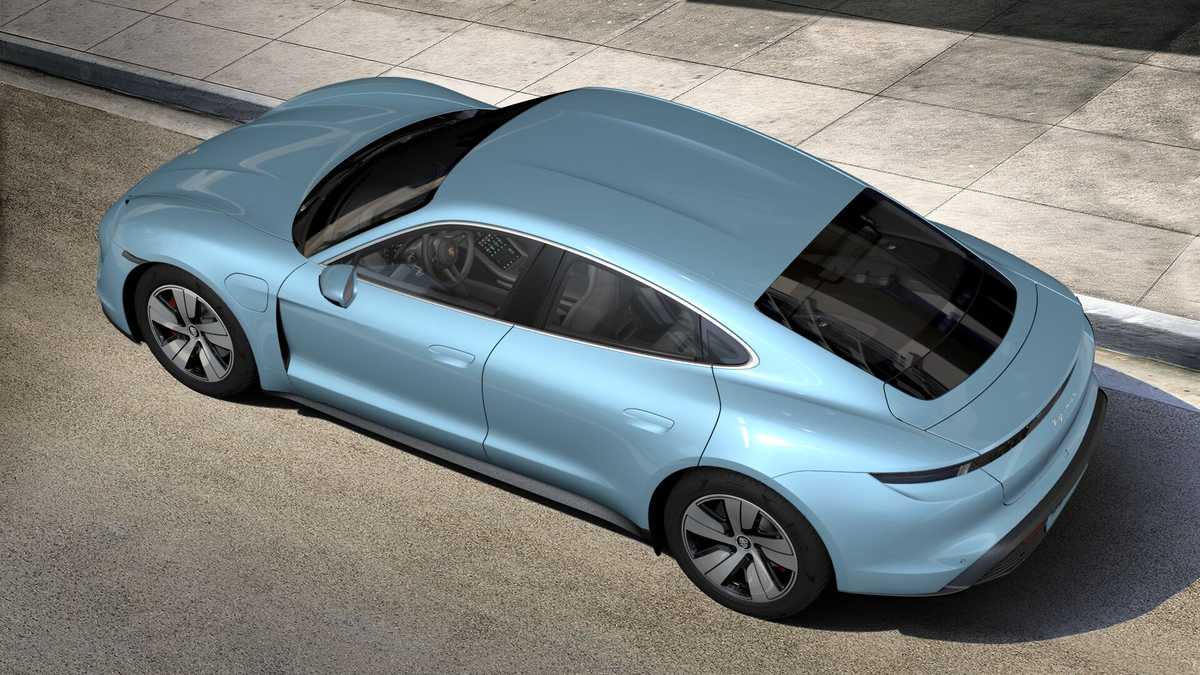 What's New for the 2021 Porsche Taycan?
After making its splashy debut just last year, the Porsche Taycan electric sedan doesn't offer any major overhauls or redesigns in 2021, which is just fine with us. We're enjoying getting to know this world-class car just as it is. However, it does have a small menu of available amenities that have been added as options and, for drivers who love Porsche electric capability but who require a little more cargo space, the Taycan has added a new wagon-style variant, called the Porsche Taycan Cross Turismo. This new model debuts its first generation in 2021, and our team can tell you more about it and answer any questions you might have.
Porsche Taycan Engine and Performance
Running solely on electric power, the Taycan plugs in and can be fully charged overnight and ready to go for you in the morning, offering up to 203 miles in electric driving range before it needs to be plugged in again and recharged.
There are three trim level options available for this car, with two different battery size available depending on which trim you fall for. The options include:
2021 Porsche Taycan 4S, which comes standard with the smaller electric powertrain option, a 79-kWh Performance battery that delivers 552 horsepower.
2021 Porsche Taycan Turbo, which comes standard with an upgraded, 93-kWh Performance Battery Plus electric powertrain, delivering a robust 616 horsepower.
2021 Porsche Taycan Turbo S, the top-tier model that also comes standard with the larger engine system, except here it's tweaked to deliver an astounding 750 horsepower.
All-wheel drive is standard across all Taycan models and with both engine options. Additionally, drivers who choose the base model 4S, but who want the larger engine, can opt for the 93-kWh system in lieu of the smaller electric battery. Any Taycan 4S with the larger engine has a power output rating of 563 horsepower.
Interior Design and Space
A four-door car with eye-catching Porsche style and design elements throughout, the Porsche Taycan has the heart of a sportscar with the practicality of a sedan. It seats up to four people comfortably in its two-row interior, and its eye-catchingly long exterior design translates into ample legroom on the inside for you and your passengers.
With backseats that fold flat and storage spread throughout the car, bringing along your important gear is easy with the Taycan. Behind its four seats, you'll find a spacious and accommodating trunk space for securely and safely transporting your cargo. Plus, the Taycan has unique and clever interior storage solutions, including underfloor space for cargo and a smaller trunk in the front of the car.
Features for Tech, Comfort, and Safety
As a world-class, elite Porsche model, it comes as no surprise that this car has a comprehensive list of features that covers all your needs. Most of the amenities our customers are looking for come as standard equipment here, including:
Wireless Apple CarPlay integration
Lane keeping assistance
Adaptive air suspension
LED headlights
Frontal collision mitigation
Power-adjustable front seats
Plus, much more. Craving a little bit more? The Porsche Taycan has you covered. Many additional amenities are listed as available on upper trims or in optional add-on menus, making it easy to customize your luxury car and personalize your experience.
The Porsche Taycan is Available Now in Roswell, GA
You know you grew up dreaming about driving a Porsche of your own, and now you can take that fantasy into the 21st century, with the astonishing power and style you've been wanting, combined with the innovative and efficient performance of an electric engine. Reach out soon to learn more about the Porsche Taycan and to arrange your appointment for a test drive.