The Porsche 911 has represented the peak of performance and for decades. The signature sloping roofline, low and athletic stance, and rear-positioned engine continues to set the standard for thrill seekers and car enthusiasts in Roswell, GA and beyond. Hennessy Porsche of North Atlanta is proud to carry the 911 in our Roswell, GA inventory. Call or email today to speak with a sales representative about pricing, availability, and scheduling a test drive in the 2021 Porsche 911.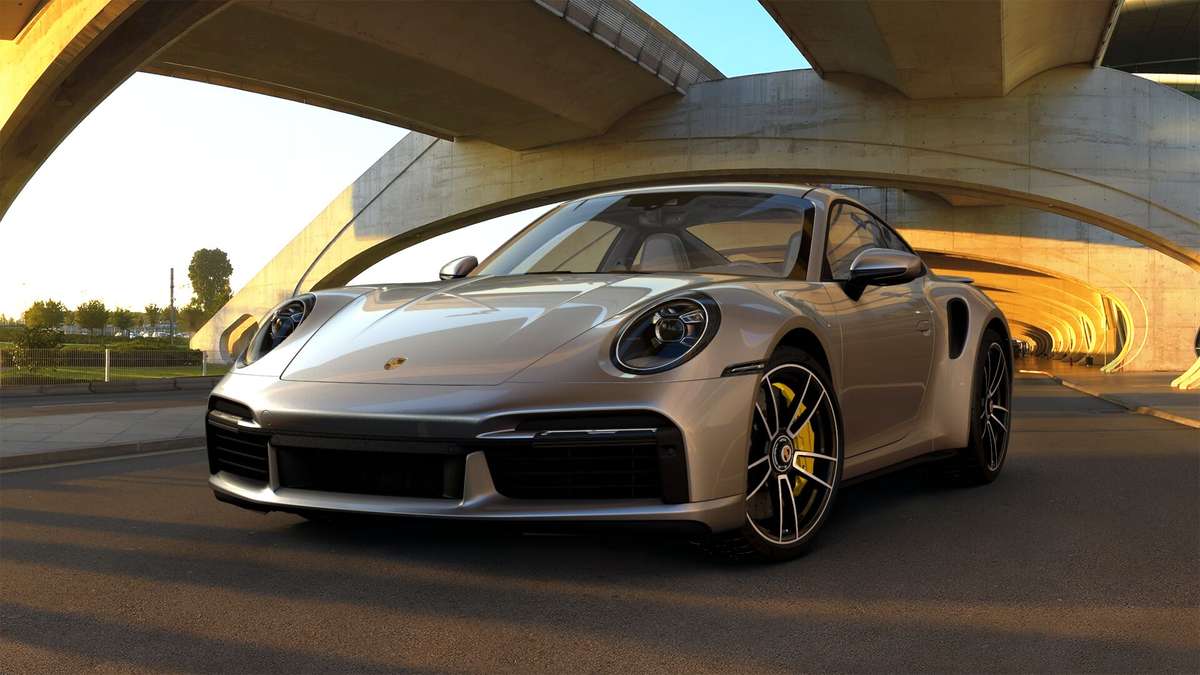 Engine Performance
Adrenaline-fueled performance comes standard in every new Porsche 911 in the Roswell, GA area. The sounds of the Porsche engine and the responsive touch have been defining attributes of the 911 since its inception.
The engine is located at the rear of the Turbo. The Turbo S has a twin-turbocharged with a 3.8-liter flat-6, and it can produce at least 640 horsepower. This model of the 911 can accelerate for 0-60 mph in approximately 2.6 seconds. Development tests done in Europe subjected the vehicle to blistering acceleration to determine the acceleration rate. The vehicle wheels are striking, and shifting will be handled via an eight-speed dual-clutch with an automatic transmission.
The Turbo S also comes with an 18-way sport seat that can be adjusted at will, a Bose surround stereo system, a 10.5-inch touchscreen system for infotainment, a carbon-fiber interior trim, and a Porsches sport Chrono gift-wrap.
Interior Space
The 911 models are designed with seating for four. The new model will come with a front trunk that will perfectly fit two suitcases. The back seats will be designed to fold and create more rear cargo space that will have the capability of holding at least six standard bags.
The multifunction Sport Steering Wheel offers a leather-wrapped control over driving dynamics with paddle shifters as well as over audio and navigation functions. Fully electric seat adjustment with memory Package for Driver's seat allow Roswell, GA drivers to customize their driving experience.
Technology
The 911 comes standard with a crisp and intuitive 10.25-inch touchscreen display to control the infotainment and many interior controls. Apple CarPlay® comes standard to bring you all of your favorite compatible apps for music, audiobooks, podcasts, and hands-free calling and texting.
Driver-Assist and Safety Features
The 2021 Porsche 911 will come outfitted with several technologically advanced driver-assist safety features that will act as another set of eyes on the road to help keep you and yours safer out on the open road. Roswell, GA drivers are bound to be impressed by these features, which include:
Porsche InnoDrive. InnoDrive can let you know speed limits and changes in the topography so you can prep for slopes and curves before they come upon you.
Adaptive Cruise Control. This system will automatically slow your 911 down when approaching a vehicle in front of you, and can speed back up to your cruising speed once space has opened back up.
Night Vision Assist. Special infrared cameras on the front of your 911 can detect pedestrians and animals in your path even before they are in your headlights, allowing you enough time to brake and avert a collision.
Lane Keep Assist. If your 911 starts to inadvertently drift out of your lane, Lane Keep Assist can provide steering assistance to help you stay in your lane.
Contact Hennessy Porsche of North Atlanta
We are ready for the 2021 Porsche 911. Call or email us today and get enlightened about this intriguing vehicle and schedule a time to come in and drive it for yourself.