Best Breweries in Atlanta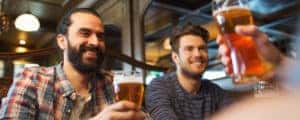 Atlanta is home to many great cultural destinations and Atlanta nightlife, and these top-notch Atlanta breweries bring craft beer and artisanal food to a table near you. If you're looking to taste some local and diverse craft beers, you'll want to explore different Atlanta breweries or look for Atlanta brewery tours. Our breweries in Atlanta are also some of the best restaurants in Atlanta. Check out the list below of the best breweries in Atlanta. Remember to always drink in responsible servings and never drink and drive.
Reformation Brewery
Reformation Brewery has been delivering craft beer to Atlanta since 2015 with an emphasis on European-style beer. You can opt to visit the original location or check out their second location in Woodstock that's equipped with a brew lab, tap room, beer garden, and patio.
Variant Brewing
Located in Roswell, Variant Brewing includes a variety of different flavors and lets you taste them all in a very modern space. While here, sip on IPAs, saisons, stouts, and seasonal beers while enjoying the atmosphere off the patio.
Good Word Brewing & Public House
Good Word Brewing & Public House is one of the newest Atlanta breweries but is still driving a crowd. While here, you can enjoy the brewpub atmosphere that lets you sip on saisons, sours, IPAs, and stouts while also enjoying tasty food from this Atlanta pub. Plus, this location offers 10 barrels that change regularly, so you won't be overwhelmed with choices.
Atlanta Brewing Company
You can't talk about Atlanta breweries without mentioning Atlanta Brewing Company. Previously known as Westside's Red Brick Brewing, the Atlanta Brewing Company is Atlanta's oldest craft brewery. Now celebrating its 25th anniversary, the brewery is still delivering delicious beverages with new branding.
SweetWater Brewing Company
Like Atlanta Brewing Company, SweetWater Brewing Company is another longstanding brewery in Atlanta. Along with a brewery, this place also has a private event space right next door, making it the perfect place for birthday parties, weddings, etc. Plus, things are currently in the works to give this location its own kitchen.
Monday Night Brewing
What separates Monday Night Brewing from other Atlanta-based breweries is their creativity. Most people know Monday Night Brewing for their unique names, such as Drafty Kilt or Fu Manbrew. And along with their clever names, you'll enjoy the taste of their different beer selections.
Did We Miss Your Favorite? Let Us Know
If you're looking for things to do around the Milton area, let our premier Atlanta luxury car dealership help. Not only do we host our own events throughout the community, but we're happy to help you find fun things to do in Atlanta in your new or used Porsche. If you're looking for great places to watch fireworks while visiting during July Fourth, check out our guide of favorite spots! Contact us today at Hennessy Porsche to learn about Atlanta's best vegan restaurants, the best Atlanta escape rooms, and the best restaurants in Roswell, GA.